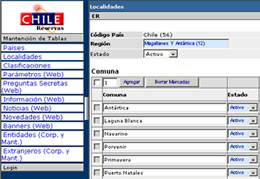 For over twenty years we have developed custom software of the highest quality to companies that require reliable, secure solutions for managing your information, and to support their business decisions.

These developments can be product-advised, or be requested as specifica specific need.

Our development tools have changed over time, according to those available in the market, and new technological tools that support has become available.
Today we are strongly focused on Web development environment that allows to use one hand through an organization's internal network(Intranet) or remotely from anywhere in the world (Internet).

In this way it manages to be connected online with customers, suppliers, or branches anywhere in the world, only to have access to the Internet, technology is now very low cost, and is available worldwide.

Standard also necessary, including alternatives to extract the information to a spreadsheet, or make available in any other format required to be transferred to any other environment or information system within the company.